What study skills did you find most effective and least effective?
Are you learning or just making good grades?
Do you tend to stay within your comfort zone?
1. Declare your First Major
After exploring your potential major in year one, you should already have some ideas about your major selection. Now it is the time for you to declare your first major. Pay attention to the deadline set by your Faculty Office. The steps to declare your major on SIS are simple. Read these tips if you need help.
2. Consider your minor / second major
Aside from your first major, you can also use your remaining credits to study for a second major (72-96 credits) or a minor (36-48 credits). A complete list of major/minor programmes that are open for students to opt for is available in AAO website. Check it out if you are not sure which programmes can be taken as a major or a minor. You may also come talk with a Faculty administrator in AAO's Major Minor Fair which is held jointly with different Faculties in January each year. Stay tuned for the email announcement.
3. Review your academic performance
Were you happy with your results in year one? Well, everything was new to you, from curriculum design, programme structure, course learning outcomes to assessment methods! The study methods you used in your secondary school might not be suitable for university learning too. For instance, you might be more accustomed to individual study, however, now there are more collaborative learning such as study groups and team projects. Don't be shy to discuss with your FAA or AAO adviser how to cope with studies in a more effective and less stressful manner. You could also learn from the first-hand experience of your seniors who encountered similar challenges like you do. See video "Tips for the right start" and "Exam strategies" produced just for you!
4. Plan for exchange
Going on exchange can surely broaden your horizons! There are two main options for exchange study: HKU Worldwide Undergraduate Student Exchange Programme (HKUWWW) to be applied through the International Affairs Office (IAO) and (2) Faculty-level exchange programme. You have to carefully research the available host institutions from the IAO / Faculty websites. Read through the institution factsheets to choose your most desired host institution(s). You can also get many useful information from the Study Abroad Fair and briefing session organized by IAO. They are usually conducted in September each year. Take a look at IAO's past event calendar to get a rough idea of the approximate dates. Also check the courses offered by the host institutions and plan for credit transfer. Feeling a bit confused? Take time to look at the 3-minute online briefing for exchange prepared by AAO.
5. Enrich Your University Life
Seize the time in university to try something new. Consider gaining different experiences to enrich your university life, for example, joining HKU Mentorship Programme, getting involved in running student societies or becoming a university ambassador. Diversifying your exposure and honing your soft skills will make you more competitive. According to career advisers at CEDARS, GPA is not the only thing employers look for.
Is the GPA the Most Important?
GPA is only one of the many aspects employers look at during the screening process, although some do use the GPA to do initial screening if they have too many applications to handle. It is not the figure that matters, but how it reflects a student as a potential employee – good GPA reflects effective time management and self-discipline, especially if they have also joined many other activities.
What Do Employers Look for in Fresh Graduates?
Apart from the GPA, employers look for technical skills, relevant knowledge (hard skills), and soft skills in candidates when making hiring decision. According to a recent survey**, the top 10 qualities (soft or transferable skills) that they look for in fresh graduates are: (i) Reliability; (ii) Responsibility; (iii) Communication skills; (iv) Positive attitude; (v) Team work; (vi) Problem solving; (vii) Work ethic; (viii) Adaptability; (ix) Dedication; and (x) Integrity.
6. Apply for scholarships
The Scholarships Office offers different types of scholarships. Aside from scholarships offered to students with financial difficulties, there are also merit-based scholarships and enrichment scholarships. To gain knowledge and skills to enhance the success of your scholarship applications, stay tuned for AAO Scholarships workshop in February/March every year. Meanwhile, you can also look at the 3-minute online briefing for scholarships prepared by AAO.
7. Look for experiential learning opportunities in Hong Kong and beyond
Apart from CEDARS which offers a wide range of servicing and internship programmes, do you know that HKU Horizons hosts a vast range of mainland and international learning opportunities such as service experience and research internship. Don't miss out these valuable opportunities to learn beyond Hong Kong! Under the new Credit Award System, you may get credits (up to 6) for participating in these activities as well as approved ones organized by yourself. Although these credits will not be counted towards your graduation requirement, they will be recorded in your transcript.
Tips
Transfer exchange credits – You might need to defer your graduation if you cannot transfer credits from your exchange. Hence consult your programme director/faculty course selection adviser about the courses you wish to take in exchange. Plan for alternative courses in case your intended courses are not being offered. Some HKU Faculties have credit transfer database listing out past credit transfer records for reference. Don't forget to check the credit conversion to determine the number of courses that you need to take at the host university. If you have doubts on this, consult your Faculty Office.
Be careful with FY courses – Check your syllabus ahead of time whether you have FY (full-year) compulsory courses in year 2, 3 or 4. You would not want to commit to a semester-long internship or exchange and as a result unable to complete the FY course.
Stories Ran Yi (Year 2)
My greatest satisfaction this year is that I stepped out of my comfort zone and is now taking courses on the unfamiliar subjects. In my first year , the majority of the courses I studied were the ones in which I had previous backgrounds. However, this year I took the courage to enroll in Linguistics and Philosophy courses in order to explore my interest outside my concentration. The process was a bit challenging as I did not have any previous knowledge on those subjects and I needed to work extra hard to keep up with the professors' pace. Writing essay is also very torturous for me because I have to spend lots of time to get my inspiration. However, through taking these "challenging" courses, I broadened my study scope. Entering an entirely fresh domain feels great. Starting from this year, I will take advantages of HKU's course offering system and absorb as much knowledge as I can during my university life.
Jenny Xiao (BA, Year 2)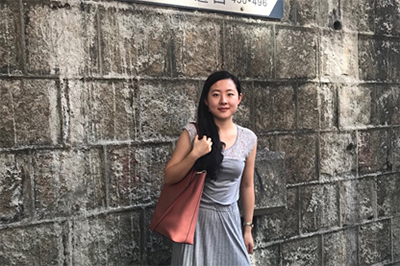 For me, this semester has been absolutely wonderful! After a whole year of hard work, I finally made it onto the Dean's Honors List! Of course, the journey hasn't been easy—I had to make many difficult decisions, find out where my interests really lie and constantly strive to improve myself. The greatest challenge that I have met so far is handling with the workload that comes with two majors and a minor. Aside from taking six courses a semester to fulfill graduation requirements, I'm also quite active in extracurricular activities and have been taking non-credit German lessons. The (absolutely insane) workload that I have to deal with definitely helped me improve my time management skills and learn to be more efficient when studying and dealing with other tasks. I started to use an academic calendar to manage my time, remind myself of deadlines, and fight procrastination. I managed to deal with the workload in an 8-hour workday and learned to become more focused when I study/work. Anyway, I don't regret any of my choices and still believe that people only grow when they step out of their comfort zone.